Tulare Lake Basin Flooding: An update for early May
It's been some time since we released an update for the flooding of Tulare Lake basin; mostly because the multi-spectral satellite images over the area have been cloudy. See below for images from 4/26/23 - 5/6/23 from Sentinel 2.

Seeing through clouds...
We then turned to another tool in our toolbox, Synthetic Aperture Radar (SAR) data. SAR is an imaging technology that employs radar to image the surface of the Earth. This is done through sending pulses of microwave energy towards a surface, in our case the ground, and measuring the return signals that come back. One of the major advantages to using SAR data is that, you guessed it, we can see through clouds. We leveraged the Sentinel 1 SAR dataset to look at the latest data from 5/1/23 and compared it to the cloudy but somewhat water visible image from Sentinel 2 on the same day. Pretty cool right?! If you're interested in learning more about SAR and Sentinel 1, here is a great overview.
The Sent 1 SAR imagery on the right is a bit more sensitive as is shown by some of the outlying water content picked up from most likely irrigation or rainfall. The overall sense of the flooding is still captured though.


Leveraging another data source
Another way to get around clouds is to just move to another satellite system or image date that has no clouds. We scouted the flooded areas for the latest imagery from NASA's Landsat 8 satellite specifically the Operational Land Imager (OLI). We lucked out on 4/30/23 with cloud free images from Landsat 8. Below is an NDWI false color image but this time with more realistic colors. To learn more about the NDWI imagery product, see our last blog post on the flooding.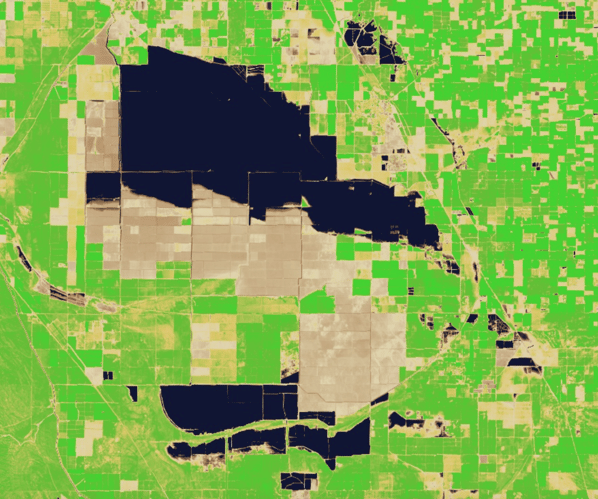 Flooded Acres Update
Overall, the flooding while increasing slightly, seems to have reached an equilibrium as of 5/1/23. The following is the best estimate of flooded acres based on Sentinel 1, Sentinel 2 and Landsat 8 processed imagery.
Note, these numbers and pixel counts are estimates based on remotely sensed imagery and may vary depending on the day, cloud cover and time of image capture.
4/11/23: 83,350 flooded acres
4/26/23: 87,240 flooded acres
5/1/23: 88,500 flooded acres
This brings total flooding of the basin to about 24%. While the significant California snow pack is starting to melt and flow into the rivers, it has been happening at a slower pace. Mild temperatures throughout the state have helped with this. But as we move into summer, what will the higher temperatures bring?
Three main rivers historically flowed into Tulare Lake; Kings River, Kaweah River and the Tule River. All three originate in the Sierra Nevada Mountains. Today, the water hydrology has changed a lot since the last time the lake was a permanent fixture but the melting water has to flow somewhere. DWR forecasts at 300% of average runoff in these rivers totaling about "4 million acre-feet in above average additional runoff. "
---
*May 12, 2023 Update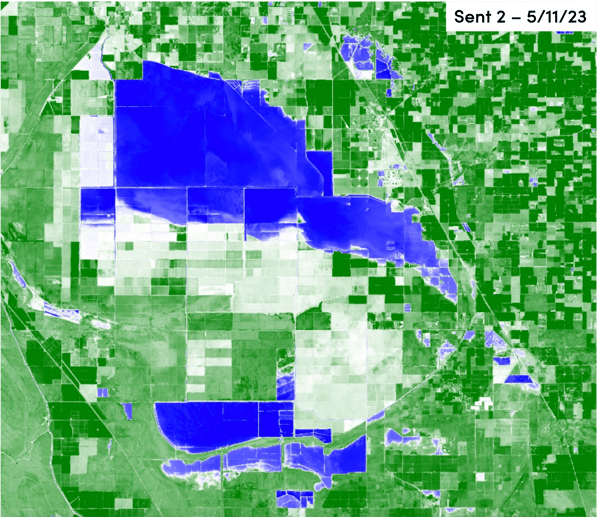 New cloud free imagery from Sentinel 2 became available on 5/11/23. The data shows some slight shifts and increases in flooded acres in the southern area of the largest flooded body of water. Below is the latest estimate of acres under water.
5/11/23: 95,200 flooded acres
---
To stay update to date on the latest for the Tulare Lake flooding or specialty crops for agriculture, follow us on our social media pages at the bottom of the page.
If you have feedback or more information on the flooding, reach out to us, we'd love to hear from you!
Subscribe to Bountiful to never miss an update. Bountiful is a data analytics and market intelligence company for specialty crops. Powering the agriculture value chain to farm, buy or sell smarter. Get in touch to learn more about Bountiful!
---
Other resources:
General water and specific Tulare flooding updates: https://sjvwater.org/news/
CA water supply forecast: https://cdec.water.ca.gov/reportapp/javareports?name=B120UP
Sentinel 2: https://sentinels.copernicus.eu/web/sentinel/missions/sentinel-2/overview
Sentinel 1: https://sentinels.copernicus.eu/web/sentinel/missions/sentinel-1/overview
Landsat Missions: https://www.usgs.gov/landsat-missions/landsat-satellite-missions