Tulare Lake Basin Flooding: June Update
Since our last update, Sentinel 2 has revisited Tulare Lake 8 times, providing us with mostly cloud-free imagery, except for one occasion where the majority of the lake was obscured by cloud cover on 6/5/23. Keep reading to see if we have reached the peak flooded area yet.
Below are images captured the last half of May.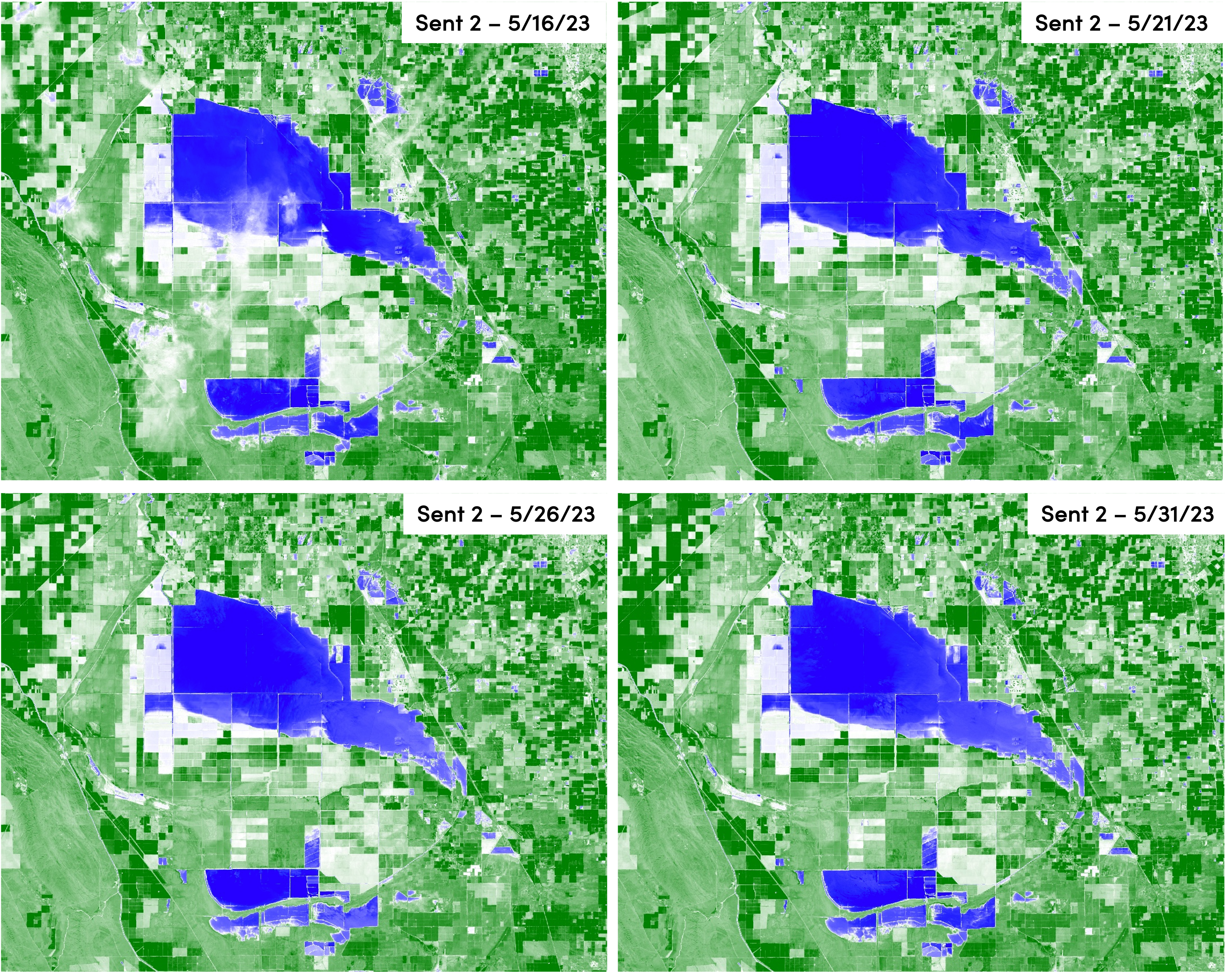 Peak Flooded Area
Based on our method for calculating the flooded area (pixel values above a threshold value), it seems that peak flooding occurred towards the end of May, see flooded acres for the May 26th capture date.
5/16/23: 95,946 flooded acres
5/21/23: 96,909 flooded acres
5/26/23: 97,090 flooded acres - PEAK FLOODING
5/31/23: 97,010 flooded acres
6/5/23: cloudy - N/A
6/10/23: 93,430 flooded acres
6/15/23: 96,130 flooded acres
6/20:23: 94,071 flooded acres
This brings the peak flooding of the basin to about 27%. As of June 20th, the flooding has subsided to 26%. Note, these numbers and pixel counts are estimates based on remotely sensed imagery and may vary depending on the day, cloud cover and time of image capture.
June Imagery
Below are images that have been captured from Sentinel 2 so far in the month of June. You will notice a nearly full cloudy image on June 5th.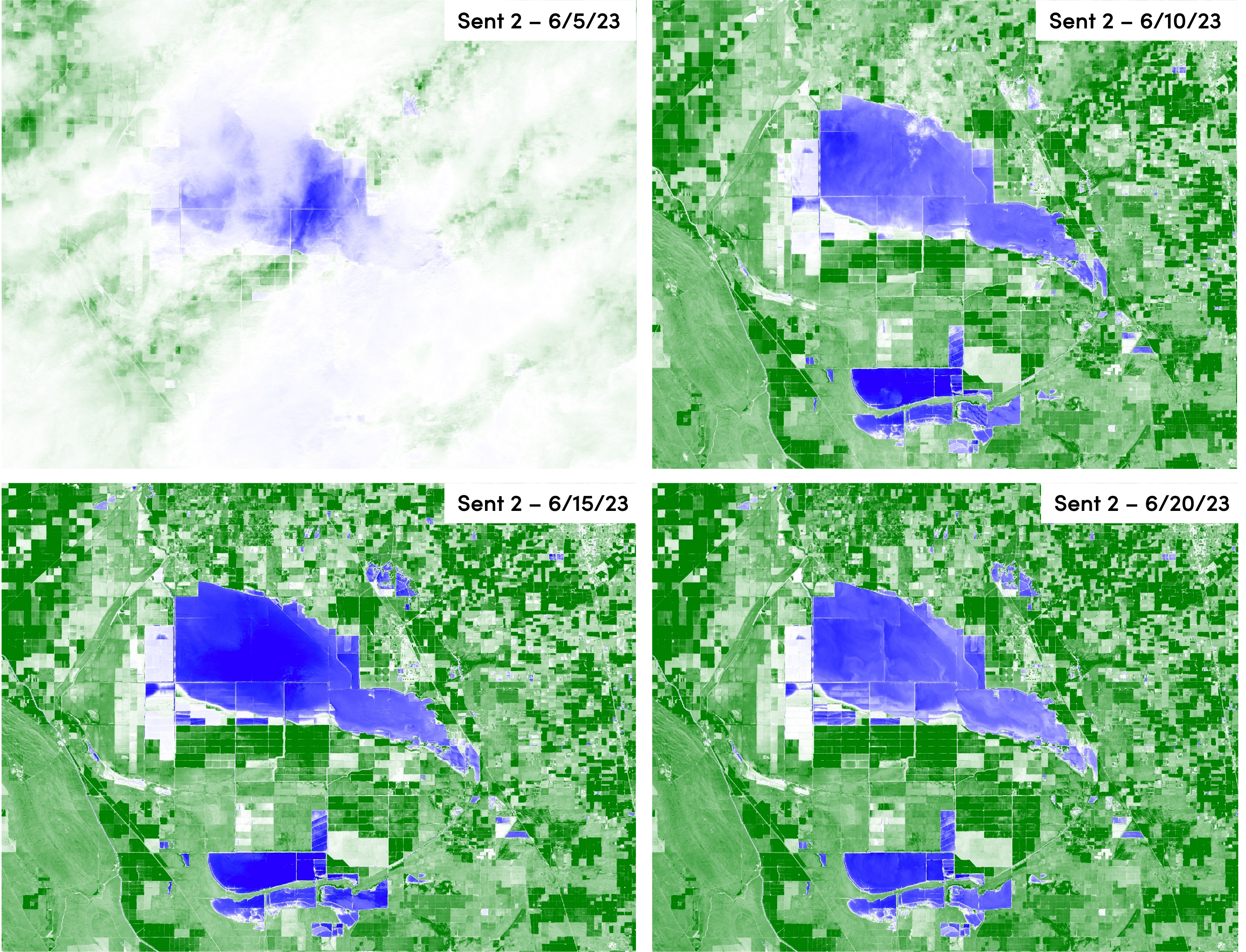 Landsat 8
Since there was a significant cloud cover on June 5th, we wanted to check with Landsat 8 to see if images were captured around that time. Below is imagery captured on June 1st from Landsat 8's OLI.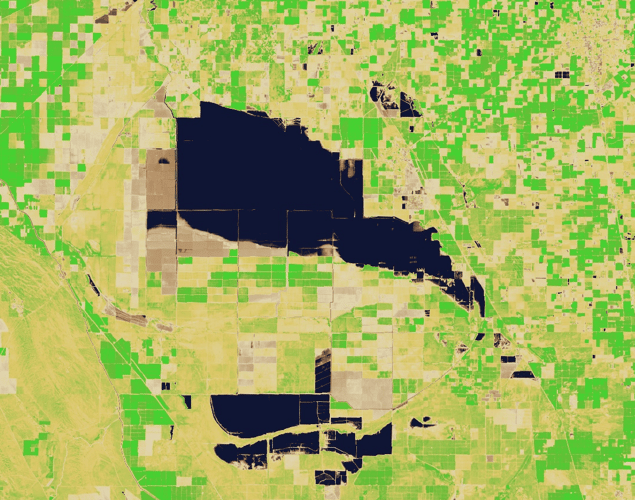 California's snowpack melted more slowly than expected due to mild temperatures experienced so far this year. It appears that the water has been able to evaporate and re-charge at a rate where the surface water is slowly subsiding; a small bit of good news for those in the impacted area. We will continue to monitor the area and provide updates next month.
---
To stay update to date on the latest for the Tulare Lake flooding or specialty crops for agriculture, follow us on our social media pages at the bottom of the page.
If you have feedback or more information on the flooding, reach out to us, we'd love to hear from you!
Subscribe to Bountiful to never miss an update. Bountiful is a data analytics and market intelligence company for specialty crops. Powering the agriculture value chain to farm, buy or sell smarter. Get in touch to learn more about Bountiful!
---
Other resources:
General water and specific Tulare flooding updates: https://sjvwater.org/news/
CA water supply forecast: https://cdec.water.ca.gov/reportapp/javareports?name=B120UP
Sentinel 2: https://sentinels.copernicus.eu/web/sentinel/missions/sentinel-2/overview
Sentinel 1: https://sentinels.copernicus.eu/web/sentinel/missions/sentinel-1/overview
Landsat Missions: https://www.usgs.gov/landsat-missions/landsat-satellite-missions