March 17, 2023 Bloom Update 🌸
By
Megan Nunes
·
1 minute read
Bountiful Bloom is officially closed for submissions. You can now access Bountiful Bloom and explore the data without any requirement to input a bloom submission to see how almond bloom development moves + bee flight hours, and chill portions change across the North, Central, and South by day.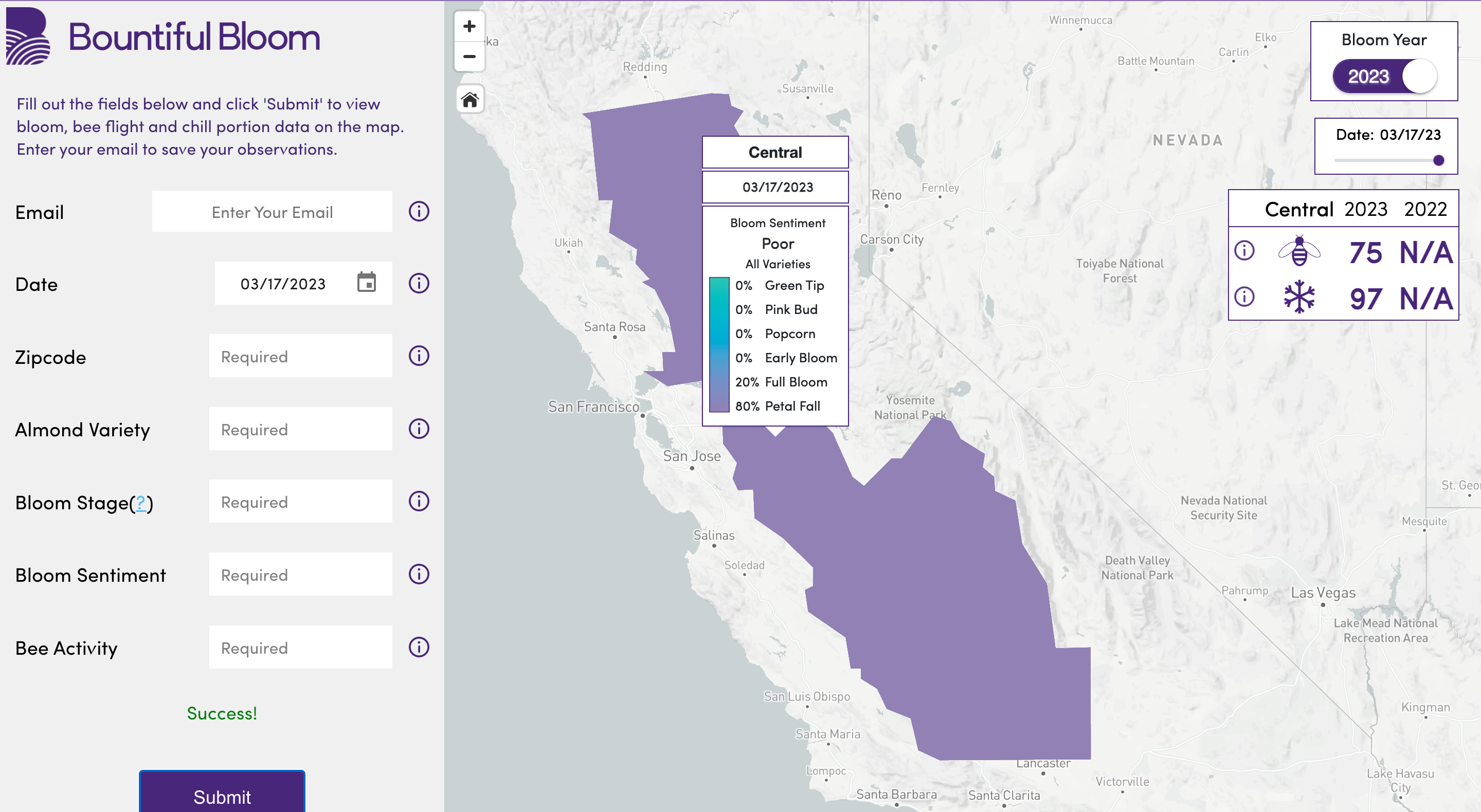 It feels like California can't stop being hit by atmospheric river after atmospheric river.
More rain came to California this week. So much rain, there are now reports of parts of the valley that are flooding, including almond orchard flooding. All reports of flooding have been in the South region near Tulare Lake Basin.
Below you'll find a screenshot from the Bountiful Platform, weather data showing precipitation over the last week 👇.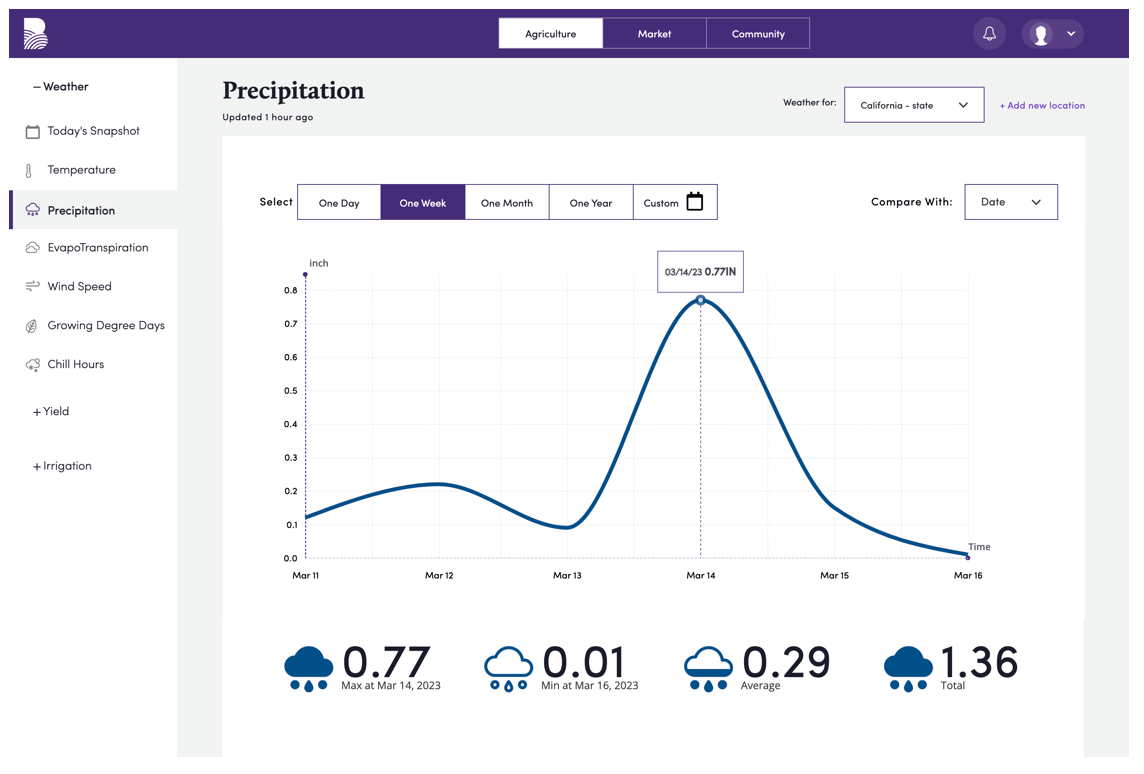 Temperatures this week pre-storms and post we're mild this week, with several counties in the South and Central hitting highs of 70 degrees Farenheight+.
The timing of this is of course good and bad. Good in the sense that elevated temperatures are helpful for getting some last-minute bee flight hours in for the few orchards with varieties in peak bloom. Bad in the sense of elevated temperatures after rain = petri dish for bacteria aka the perfect recipe for disease.
West Coast Nut has a rather timely article on the subject of the disease risks of rain and temperature, with some nice mitigation techniques and recommendations as well, you can find the article here.
👇 You'll find the California min and max temperatures over the last, you can view the temperature for your area of interest on the Bountiful Platform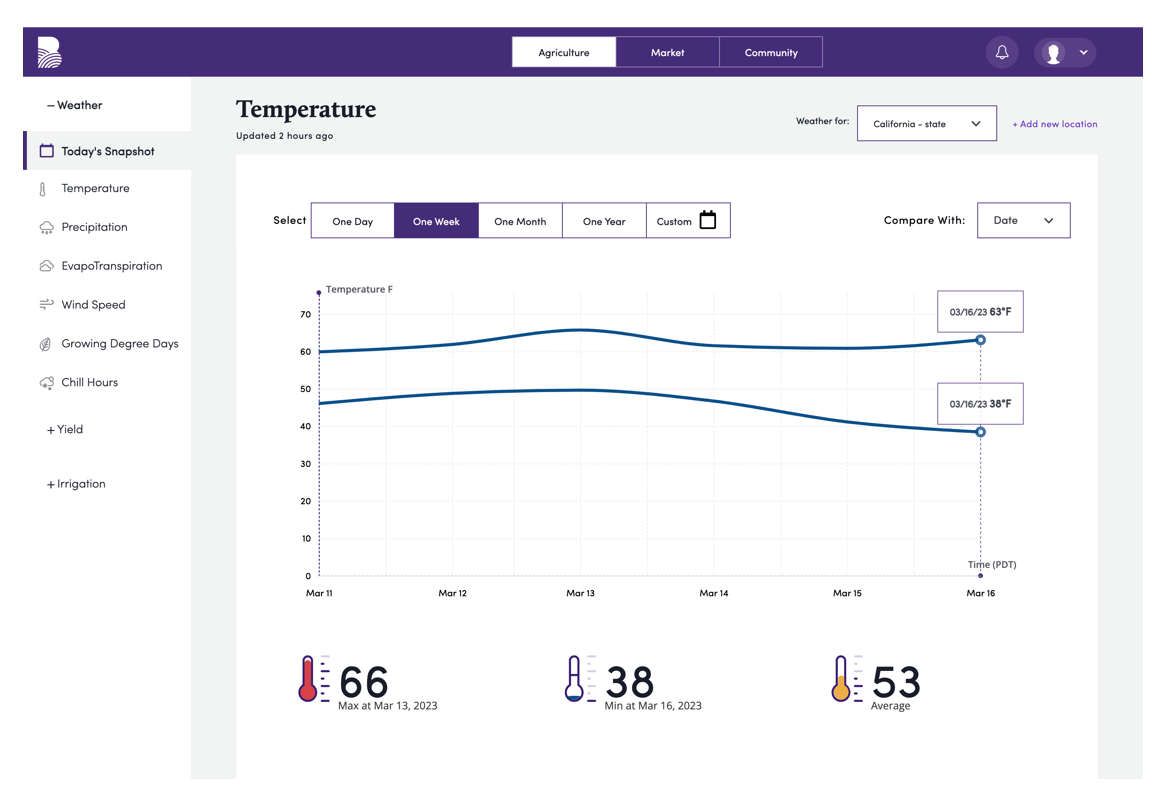 With bloom coming to a close we did sneak in some last-minute bee flight hours to close out the pollination period for almonds.
The 2023 🐝 cumulative bee flight hours we're 70-122 hours less this year when compared to 2022* bee flight hours, and cumulative chill portions for 2023 ❄️ continue to be up over 2022*, by 17-25 chill portions.
*Please note Bountiful only measures bee flight during bloom. The 2022 bee flight hours below are as of March 9, 2022.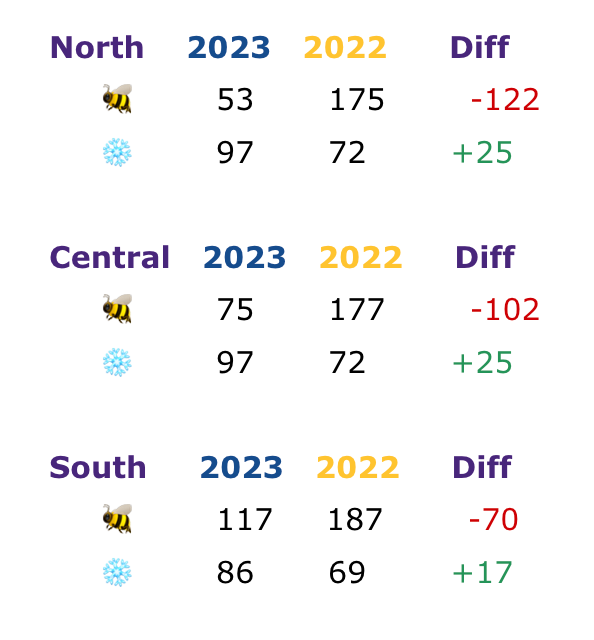 You can see how bee flight hours and chill changed throughout the North Central and South by day at
BountifulAlmonds.com
.