Weekly Almond Market Update: 3/30/23 to 4/5/23
By
Megan Nunes
·
2 minute read
Welcome to your Bountiful Almond Market Update.
Bountiful Almond Market email updates are sent weekly on Wednesdays. If you're missing some you can subscribe here.
👋 from Michael, Megan is in New York this week at the Global AgInvesting Conference. So I'll be taking over the weekly email for this week.
A friendly reminder, the March almond position report will be out on Tuesday next week. I'm looking forward to analyzing crop receipts, shipments, new sales, and new sales conversions to shipments. In the interim, weekly exports serve as a nice data-driven indicator for estimating March shipments before the position report comes out.
This week we're covering:
Growing Degree Days and crop progress.
Let me know if you're having trouble accessing data on the Bountiful platform via the links below 👇 I'm here to help.
Keep reading for this week's latest or sign in to the Bountiful platform to access your Agriculture, Market, and Community data-driven insights.
---
🌡️ Growing Degree Days
April is here and temperatures remain unseasonable low. Typically, temperatures start increasing gradually towards the middle and end of March. The average temperature across the state has stayed pretty constant in the last month. The average temperature this past week has been 10-12 degrees Fahrenheit lower compared to the last couple of years.

📝 A Comparison
Currently, we sit at just over 53 GDD for this year (Jan-present). The lowest of the last 12 years! The next closest year was 2021 with 120 GDD.
See below for the years' comparison with totals. A quick reminder, we measure GDD as the accumulation of temperature above 51 and under 90 degrees Fahrenheit. And we typically measure GDD from April - August. Go to weather on our app and expand to Growing Degree Days to perform your own comparisons. Needless to say, crop development is behind!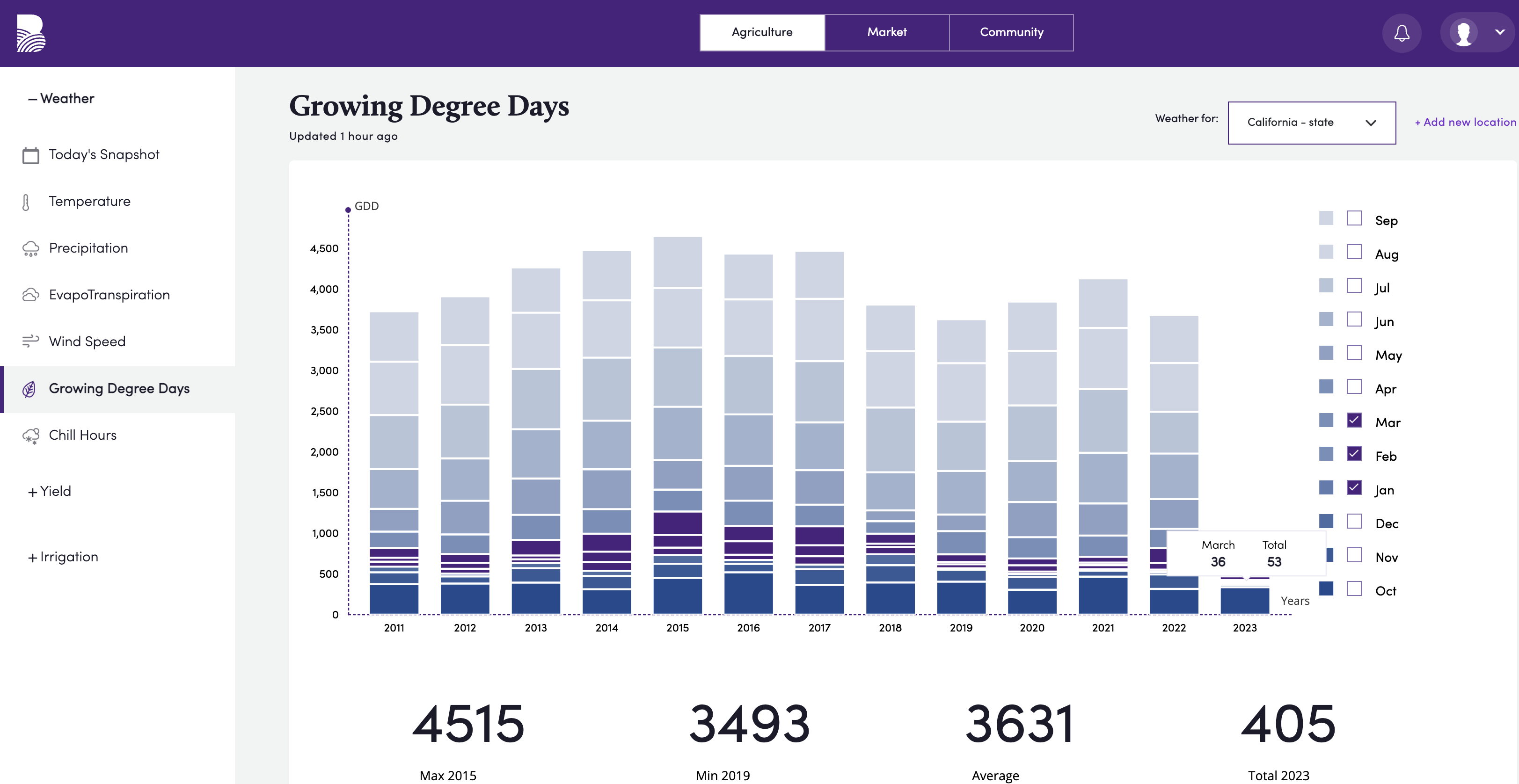 Here is another great article from our favorite, The Almond Doctor, on GDD along with considerations for spring nitrogen application and biofix date. The article is from 2015 when we had a rapid progression of crops in March/April of that year. Oh how different this year is...
---
🌳 Crop Progress
Now, with all that being said, the crop is slowly and inconsistently moving forward. It's been nice finally having some consistent clear days without rain. Let's hope that continues and temperatures start to increase. It looks like warmer weather will be here this weekend.
📝 Notes from the field
Because of the temperatures and weather, it's been difficult to fully assess what this year's crop could look like. It's taking some time for those nutlets to fill up, see what drop there may be, and ultimately view viable nuts that have been pollinated. From what can be seen at the moment from our partners in the field, the biggest take away is light and inconsistent loads on Nonpareils in the central and north parts of the state.
Blue Diamond released their latest crop progress report earlier this week with some similar observations. One standout metric from the report, "An interesting note this year is the number of "twin nutlets" present in the developing crop. While visible in all varieties, the Independence variety, in particular, is displaying the greatest proportion."
What have you heard or seen? We'd love to hear from you.
---
Subscribe to Weekly Almond Update for the latest almond market intelligence and industry news.