Weekly Almond Market Update: 3/23/23 to 3/29/23
By
Megan Nunes
·
2 minute read
Welcome to your Bountiful Almond Market Update.
Bountiful Almond Market email updates are sent weekly on Wednesdays. If you're missing some you can subscribe here.
A summary of Bountiful Bloom submissions for this year 👉 2023 Almond Bloom Summary
This week we're covering:
Count down to major upcoming milestones and what they'll mean to the market.
Let me know if you're having trouble accessing data on the Bountiful platform via the links below 👇 I'm here to help.
Keep reading for this week's latest or sign in to the Bountiful platform to access your Agriculture, Market, and Community data-driven insights.
---
🚩 Upcoming milestones and what they'll mean to the market
April is right around the corner, and we have a handful of major milestones we'll be crossing in the coming weeks. The upcoming milestones that should be on your radar:
📝 March position report
🔮 Bountiful April forecasts: yield, acreage, and production
👀 Other estimates for 2023 from the market + industry
👇 I'll be breaking down the release dates, fun facts/insight, and possible market implications for you below based on the data we have today.
📝 March position report
Almond Board of California (ABC) will release the March position report on April 11, 2023. Key metrics I'm looking forward to seeing outcomes on the following: crop receipts, shipments, new sales, and new sales conversions to shipments. In the interim weekly exports serve as a nice data-driven indicator for estimating March shipments beforehand. And if you need February's new sales data, see here.
🔮 Bountiful April forecasts: yield, acreage, and production
Bountiful will release our first median yield (and distribution), acreage, and production forecasts in early April. We're currently evaluating Growing Degree Days (GDD) as this year's crop development is behind the last few years. You can track GDD for this year and compare it to previous years on Bountiful, for example, see the screenshot 👇.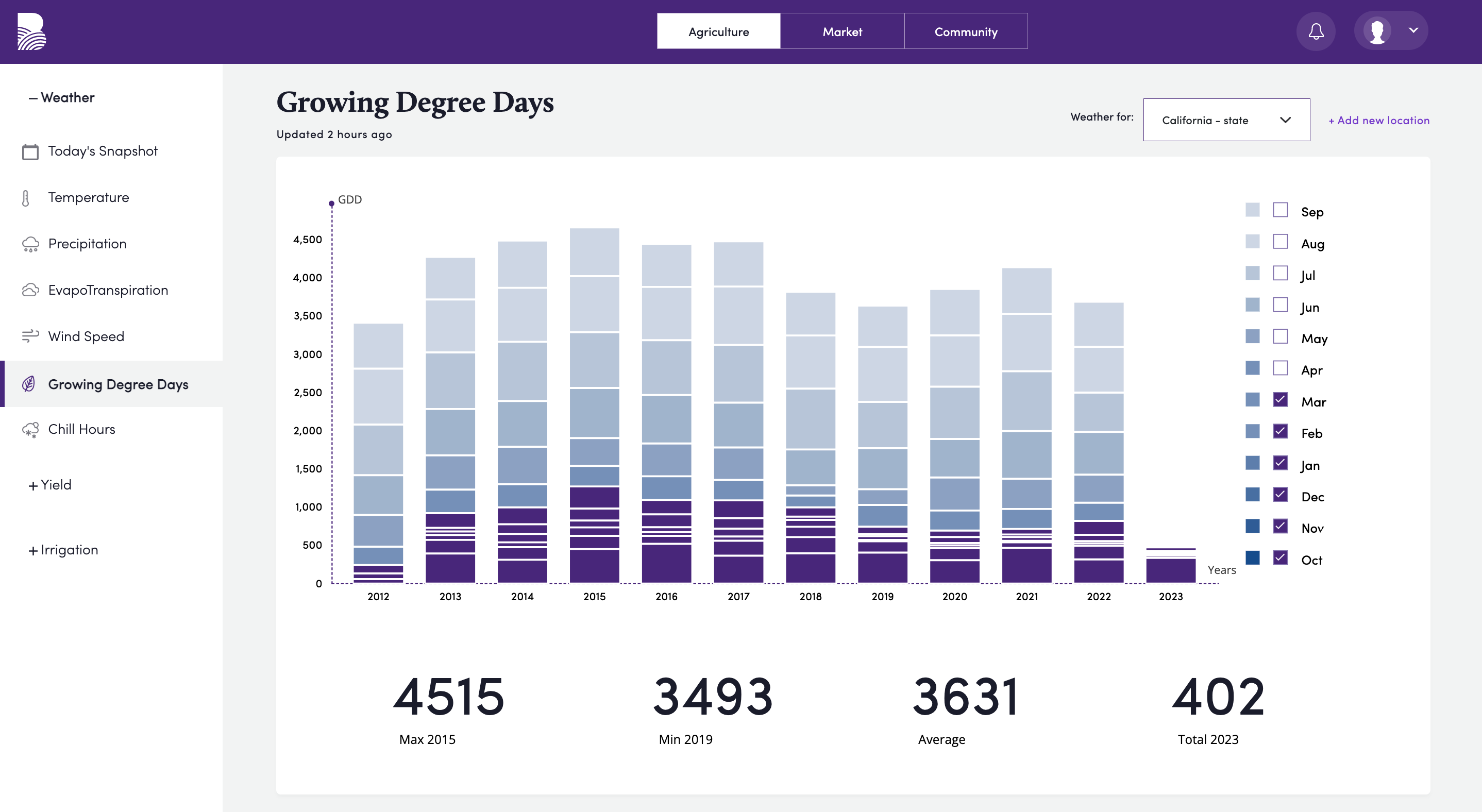 If you're wondering why GDD matters to almonds? they're responsible for nut sizing and more. The ability to hit certain temperature thresholds and the GDD accumulation 30 days post-bloom are important metrics to track. The Almond Doctor, David Doll, has a great article on what the research has to say about GDD, nut size, and harvest outcomes.
In preparation for the upcoming release of Bountiful's first forecast... a refresher for you on our machine learning approach to forecasting, an article we published on our methodology.
👀 Other estimates for 2023 from the market + industry
Typically following Bountiful's first April forecast, production estimates from marketers are released. There are two almond marketers who release production estimates.
The first marketer to release their estimate is Terra Nova in mid-April. You can read an example of a previous year's almond production estimate from their website.
The second marketer to release their production estimate is The Wonderful / Famoso group. They typically release their estimate before the USDA Subjective.
Industry estimates from USDA and ABC's LandIQ acreage will be out in the latter half of April, typically released during the week of April 24th. While the first USDA production estimate (the Subjective) will be released in early May.
All estimates from marketers and industry will available for you on Bountiful, Community under Industry Estimates as they're publicly released.
So what does the above mean for the market?
A rather unsatisfying answer, it depends on the results.
Anything that results in a combination of the 2023 Total Marketable Supply (TMS) being roughly the same as the last few years, (3.4B ish) will most likely cause pricing to remain flat and at historic levels, assuming demand patterns in 2023 reflect what we've seen in our post-Covid era.
A contraction in overall TMS, let's say 3.2B ish (or less) would bring balance to the overall almond market, stabilizing price. Have a quick peek at what I'm referring to 👇, a screenshot I took from the Bountiful, Price Explore page.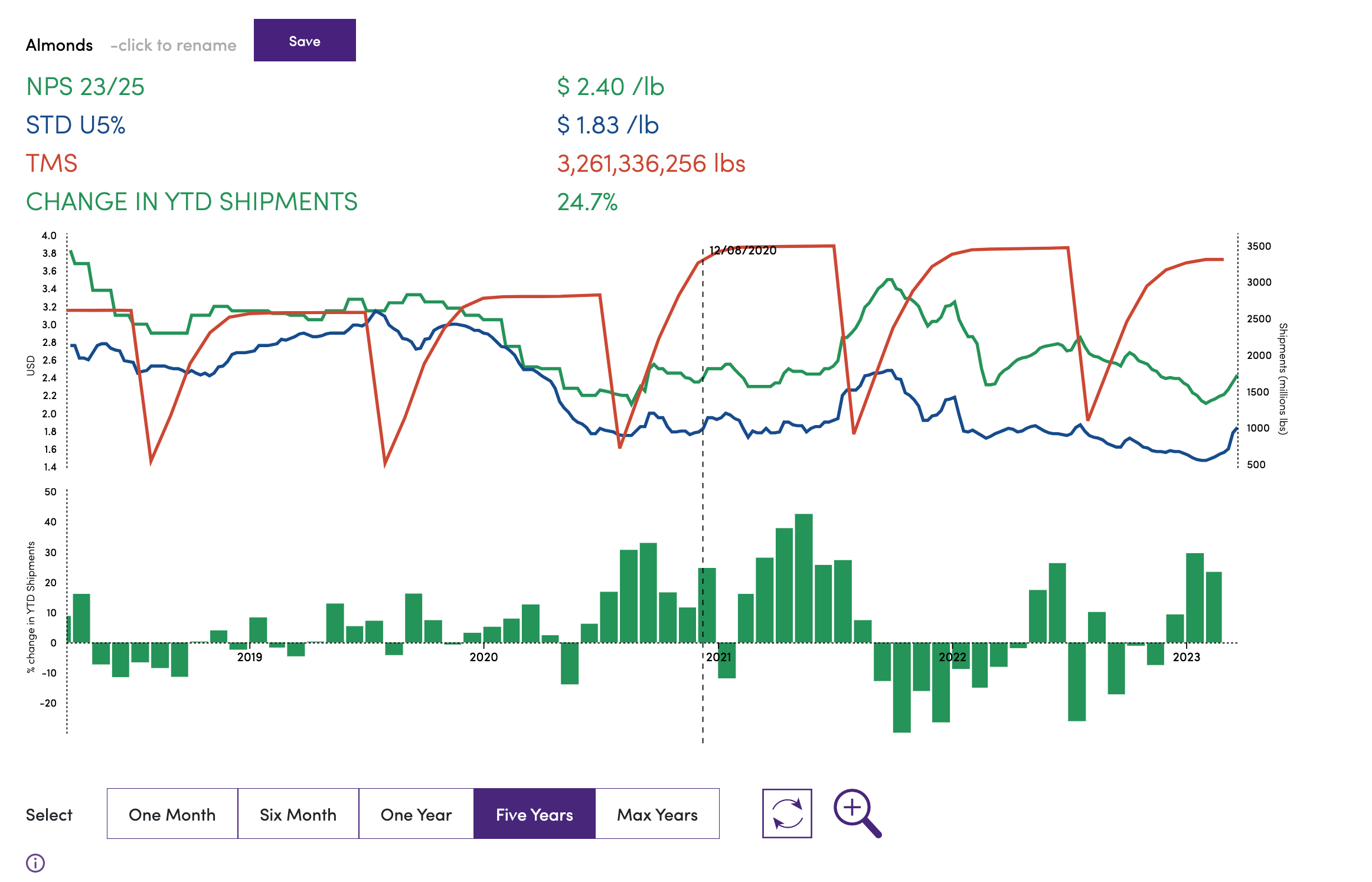 ---
Subscribe to Weekly Almond Update for the latest almond market intelligence and industry news.