Weekly Almond Update: 10/5/23 to 10/11/23
By
Megan Nunes
·
1 minute read
Welcome to your Weekly Almond Update from Bountiful.


This week we're covering:
September's Almond Position Report, out this week

Keep reading for this week's latest or sign in to the Bountiful platform for your almond market data-driven insights.
💡 Friendly reminder the Bountiful platform is built to operate best on your 💻 computer browser.
🎉 September's Position Report
A critical data point for the market, are you ready?
This season has been challenging on multiple fronts.
For growers' challenges started with bloom and have continued through harvest due to the unprecedented weather throughout the valley.
For sellers and buyers alike the uncertainty around new crop (volume + quality) and demand have presented micro conditions around price not seen in dare I say over 10 years.
The results? Market stagnation leading up to the release of new monthly data. Making position reports, especially early in the marketing year, August-November critical.
So as we all await the release of new monthly data, from September's report, I'm going to share with you a data-driven way to uncover how Total Marketable Supply (TMS), Shipments, and Commitments have changed in the past for August to September.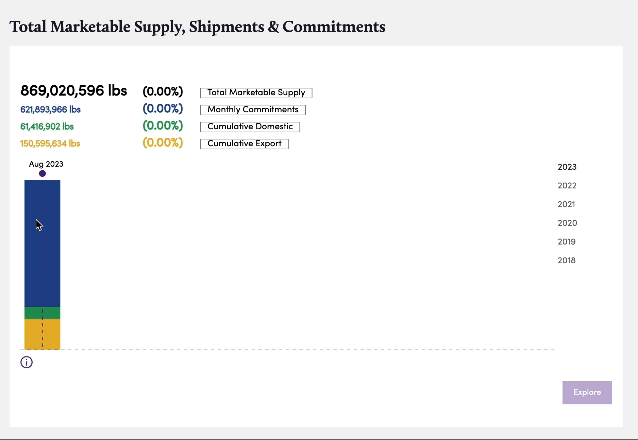 👆 above is a chart you can access in Market. It's a Market summary for overall supply and demand.
The black is TMS, the blue is Monthly Commitments, the green is Cumulative Domestic shipments and the yellow is Cumulative Export shipments.
The best way to use the TMS, Shipments & Commitments chart? Toggle between years on the right and hover over on the chart to see how the monthly values change.
Following the release of tomorrow's September position report you can expect an email from Bountiful letting you know that new data is added to Market for you!
---
Subscribe to Almond Updates to get the latest market intelligence and industry news delivered straight to your inbox.