Weekly Almond Update: 10/26/23 to 11/1/23
By
Megan Nunes
·
2 minute read
Welcome to your Weekly Almond Update from Bountiful.


This week we're covering:
El Niño is here: The October forecast and preparing for a cold and wet winter
A look at Coffee Shops submissions on how far down 2023 crop will be
October's Almond Position Report, out in less than 2 weeks


Keep reading for this week's latest or sign in to the Bountiful platform for your almond market data-driven insights.
💡 Friendly reminder the Bountiful platform is built to operate best on your 💻 computer browser.
🌧️ El Niño Update
A cold and wet winter is forecasted...
NOAA's updated their forecasts and outlook for October. El Niño is here and currently purring along in the tropical Pacific. Forecasters expect El Niño to continue through the Northern Hemisphere spring with an 80% chance during March-May 2024 and there is a 75-85% chance it will become a strong event.
💪 What does a strong El Niño event mean?
Significantly warmer-than-average water temperatures in the central and eastern Pacific Ocean. More specifically, the measure of a strong El Niño is a peak 3-month-average of at least 1.5 °C. Forecasters use the 3-month-average in the Oceanic Niño Index (ONI) to make sure that the oceanic and atmospheric changes persist long enough to affect global weather and climate. A peak ONI of 2.0 °C or more is considered "historically strong," or "very strong."
Visualized below 👇 are the ONI trends over the last 23 years.
The results of a strong El Nino event: major changes in weather patterns, often causing extreme weather events like heavy rainfall, floods in some regions, and droughts in others.
Below you'll see Precipitation Trends: 9/1 to 10/31 for 2023, 2016, and 2010.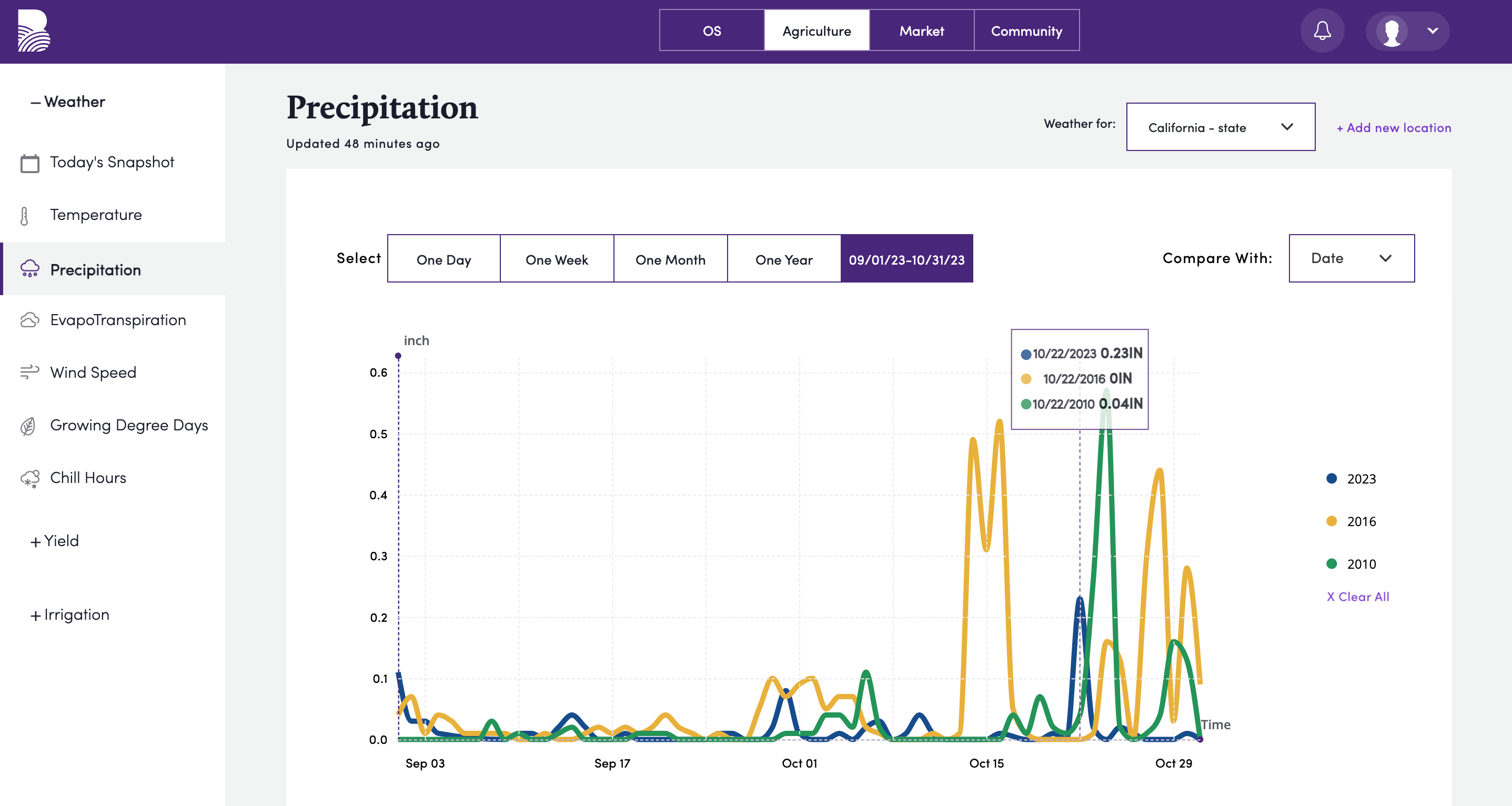 🌧️🌳 El Niño x Almonds how can you prepare?
Leverage current and historical weather data to plan your farm, buy or sell decisions.
📆 You can track real-time events and compare previous El Niño years (like 2022-2023 and 2015-2016) and wet winters (2010/2011) directly in Bountiful Weather and uncover yield outcomes in those years using Yield Metrics. Allowing you to get ahead on planning for winter sanitation, 2024 bloom, and 2024 crop potential as the impending El Niño is on our doorstep.
😧 Yes, I agree it's crazy that I'm mentioning the 2024 new crop while almond harvest is ongoing, sadly I don't make the rules on how production cycles work.
How are you preparing for El Nino? I'd love to hear from you!
☕ New questions for you in Coffee Shop
Have you checked out Community lately?
With the general talking points and sentiment of the crop being down 20%-30% on the USDA Objective 2.6B lbs...
We asked the Bountiful Community Coffee Shop a new question:
Where do you think the final crop will end up based on the USDA Objective 2.6B lbs?
Current response submissions are trending down -5% to -10% from the USDA Objective. Don't agree, submit your vote in the Community Coffee Shop with your fellow farmers, buyers, and sellers in the almond market.
Don't have a Bountiful platform account? Get started for free here.
🎉 October Position Report Release
Almond Board of California will release the October 2023 position report in less than 2 weeks, it's out on November 10th.
You can expect an email from Bountiful as soon as it's out, letting you know new data is added to Market for you!
---
Subscribe to Almond Updates to get the latest almond market intelligence and industry news delivered straight to your inbox.