Bountiful Market Updated: October 2022 Position Report
By
Megan Nunes
·
1 minute read
Bountiful Market is updated with new data from the October 2022 Almond Board of California position report.
Log in to Market on the Bountiful platform to explore:
Monthly Shipments
Carry-out trends
Crop Receipts by Variety
Total Marketable Supply, Shipments vs Commitments
---

📈 Almond Crop Receipts down over 2021
October's position report is the third receiving month of the 2022/2023 marketing year. Total crop receipts to date: 1,656,928,108 lbs down -7.65% over last year.
Monthly new crop receipts:
The monthly new crop received per ABC form 1 reporting
October: 678,414,784 lbs

down -5.02%

September: 714,288,925 lbs
🚢 2022 Shipments
October's total shipments: 214,608,214 lbs down -1.14% over last year and up +13.92% over last month's September shipments: 217,073,702 lbs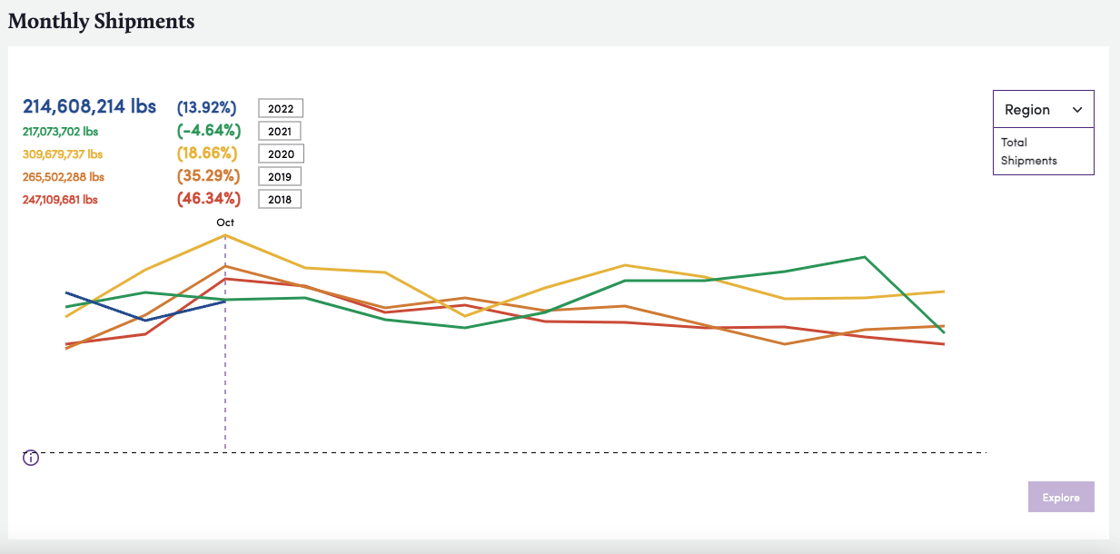 📊 Bountiful's 2022 forecasts
Following the August position report, we publicly share all forecasts released on the Bountiful platform, to Farm and Industry subscribers, throughout the 2022 crop year.
Subscribe to Almond Weekly Update for our 2022 acreage, yield, and production forecasts.