Weekly Almond Market Update: 2/23/23 to 3/1/23
By
Megan Nunes
·
2 minute read
Welcome to your Bountiful Weekly Almond Market Update.
We're preparing for the upcoming almond forecasting season, if you'd like to learn what Bountiful's forecasting release schedule is for 2023 email me.
Bloom updates will continue to be released on Fridays during bloom. If you'd like to receive it by email please make sure you're subscribed. Sharing the last two Bountiful Bloom updates Feb 17th and Feb 24th with you if you missed it.
Keep reading for this week's latest or sign in to the Bountiful platform to access your Agriculture, Market, and Community data-driven insights.
---
⛈️🐝 Weather storms drag on during bloom, but what does it all mean when it comes to setting a crop?
I'll be honest with you, I never realized one could talk about the weather for weeks. Yet here I am. I'm tired of it, you're tired of it, yet the reality of tracking ever-changing weather during bloom, especially when it's a storm, is a harsh reality we're all faced with. Misery-loves company does it not?
It's a doozy out there as the 2023 bloom slogs on as the Central Valley sits on the frontlines of the recent storm activity sweeping across California.
Average temperatures across California growing regions this week continue to be low, especially when thinking about or comparing through the context and lens of last year. Below you'll see a screenshot from the Bountiful platform, showing this week's Temperature:
2023

compared to
2022
2011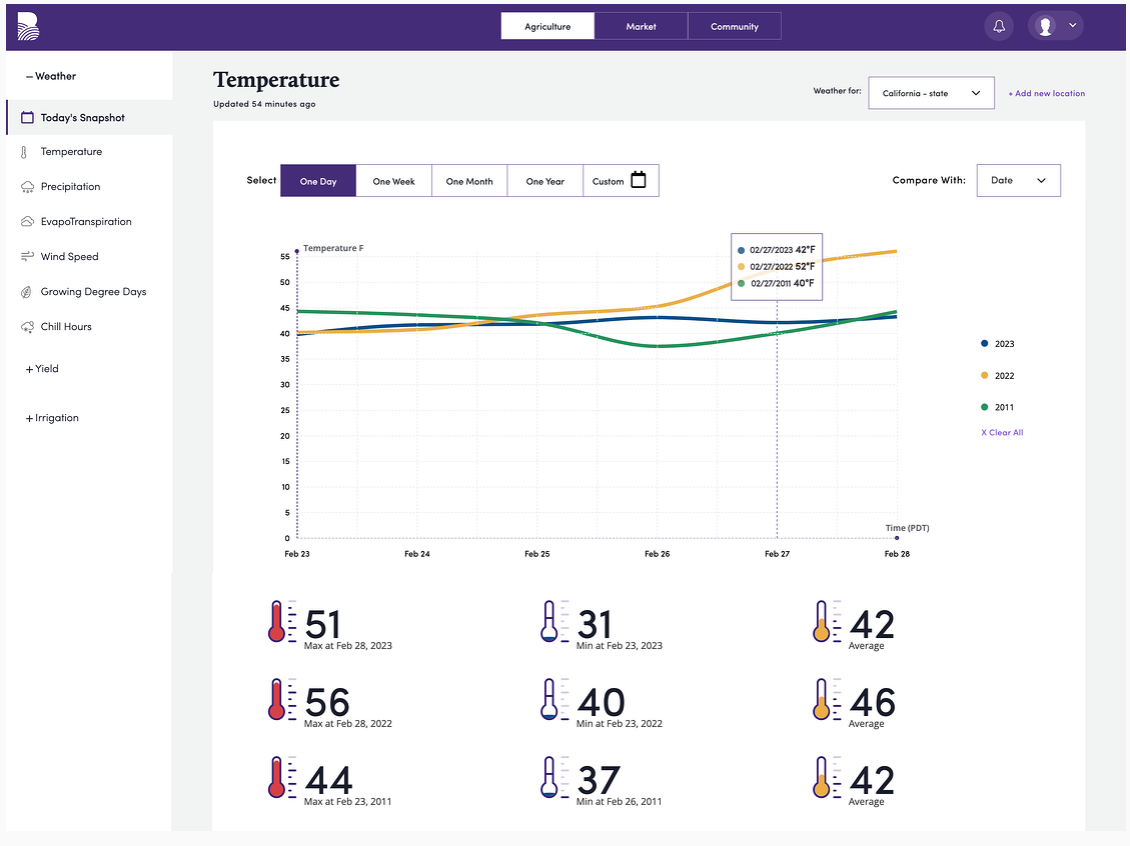 Why am I bringing up 2011? Context is everything. 2011 is the number two record-breaking yield in California almond production history.
2011 is also a year where weather storms, low temperatures, etc. dominated bloom discussions and yield potential. The results of the 2011 bloom speak for themselves, a state average yield of 2,383 lbs per acre, as an industry we can set a well above average yield on the latter half of bloom.
How was this be possible if bees don't fly when it's less than 55 degrees out?
Last week I talked about weather impacts during bloom, how do bee flight hours and yield relate? 👈 if you missed it.
I've heard now from several people in conversations over the last week that bees will not fly when temperatures are below 55 degrees. If you've heard this before, please don't fall victim to coffee shop talk.
Bees fly for forage and pollination activity, like all things really bee activity should be viewed as a distribution. Rather than a binary temp = no activity or activity. The American Bee Journal's article on "Cold Flying Foragers: Honey Bees in Scotland Seek Water in Winter" explains how bees thermoregulate their thorax temperatures to make flight under 55 degrees possible.
So the questions you should be asking: yourself if you're a grower, your growers if you're a proccessor, or your suppliers if you're a buyer
Do you have enough hives per acre with high-quality frames per hive to get the job done this year?
Did growers maintain their average frames per acre as they did in previous years?
Or we're budgets cut on bees due to market returns to growers last two years?
Time will tell and I already can't wait to see the results from Bountiful's first April forecast to see what the data and patterns over this year have to say!
---
Subscribe to Weekly Almond Update for the latest almond market intelligence and industry news.